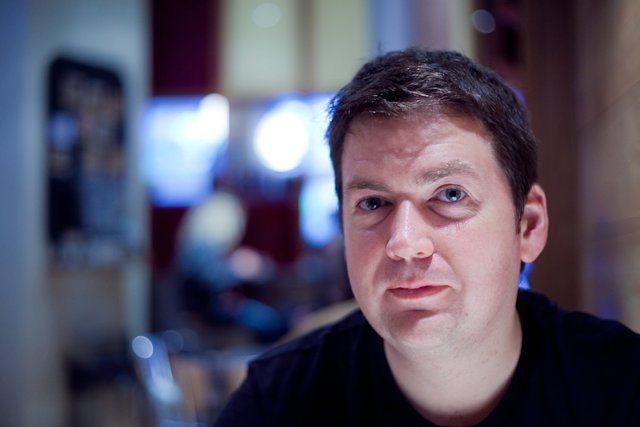 Tom has been writing and acting since 2003. He formed a partnership with Fraser Campbell and together wrote and performed the sketch show 'You Owe Me Glue' from 2005 to 2008. YOMG played sell-out shows at the Glasgow International Comedy Festival in 2005, 2006 and 2007, in addition to a monthly residency at Glasgow's legendary comedy venue Blackfriars throughout 2006.
In 2008 the show was adapted as a pilot for Radio Scotland, being recorded at The Stand in Glasgow in July of that year before airing in January 2009 with a repeat broadcast the following August. To tie-in with the first broadcast Tom and Fraser presented an episode of Radio Scotland's 'Comedy Zone' showcasing several of their comedic influences. Some sketches from the radio pilot 'The Magic Glue' can be heard on Tom's Soundcloud page.
In 2009 Tom and Fraser wrote a full-length play called 'Odds and Sods'. A comedy set in a bookmaker's, this first appeared as a rehearsed reading at the Ramshorn Theatre, Glasgow in March of that year as part of the Glasgow International Comedy Festival. The full production then had a 6 night run at the theatre in October 2009. It also played for one night in April 2011 at the Palace Theatre, Kilmarnock.
Tom and Fraser's second play 'Cinderella Boys' was set in a Partick flat on the evening of 19th April 1972 as two couples gathered around the TV set to watch both Celtic and Rangers play in the semi-finals of Europe's two major competitions. The show ran for 4 nights at the Ramshorn Theatre in June 2011.
Tom had his short play 'Where is Everybody?' workshopped at the Traverse Theatre's 'Words, Words, Words' event in November 2012, where it was directed by Rob Jones.
Most recently Tom's third play 'Great Lengths' premièred at the Glasgow International Comedy Festival 2013 with two performances at The Old Hairdressers.
As an actor Tom appeared in the pilot episode and all 6 episodes of series one of the BBC TV sketch show 'Limmy's Show'.
Tom's page at Equity. Tom's page at imdb.com.
Photography by Julie Robertson